Unity and EU-wide Efforts Focus of Online Rare Disease Meeting
Eurordis, a Paris-based coalition of national rare disease associations across Europe, hosted its first all-virtual conference, bringing some 1,500 delegates from 57 countries together online during the COVID-19 pandemic.
The 10th European Conference on Rare Diseases & Orphan Products (ECRD2020) — which was set for May 14–15 in Stockholm, instead took place via Zoom. Eurordis and its co-organizer, Orphanet, used the occasion to appeal to the European Union in Brussels to urgently approve standardized policies to advance the health and well-being of all Europeans.
Yann Le Cam, CEO of Eurordis, said that as is the case with COVID-19, there is an obvious value to grouping efforts at the EU level in order to tackle rare diseases. But he lashed out at the increasing nationalism shown by various leaders responding to the pandemic.
"We must quash this egocentric rhetoric emerging in some countries. It fragments Europe into diverging national-level decisions," Le Cam, of France, said in his welcoming remarks. "A lack of EU coordination is both detrimental to the health of people living with a rare disease and has an unnecessary negative impact on the economy."
He urged the EU to take the following concrete steps:
invest in research and innovation
pass legislation that promotes competition and addresses unmet needs
expand and consolidate the European Reference Networks
create a structured EU approach to ensure sustainable access to orphan medicines, and new transformative gene and cell therapies for patients
"This epidemic has shown that if you fail to prepare, you prepare for failure — and we must prepare together across borders," said Terkel Andersen, president of the Eurordis board.
Eurordis is a nonprofit alliance of 900 rare-disease patient organizations from 72 countries that work jointly to improve the lives of Europeans with rare diseases. Orphanet provides high-quality information and data on rare diseases. With its 40-nation network, Orphanet helps to orient patients and doctors to relevant expert resources in Europe and beyond.
The EU considers a disease rare if its incidence is lower than 1 in 2,000 people. About 30 million of the 446 million citizens who live in its 27 member states have a rare disease.
Yet because of the low prevalence of each disease, medical expertise is uncertain, care offerings inadequate, and research limited, said Orphanet's director, Ana Rath. She noted that 72% of rare diseases are genetic — and that 70% of those genetic conditions begin in childhood.
"Now more than ever, the EU has a vital role to play in improving the health of its citizens. ECRD2020 focuses on how to build policies and services over the next decade that will improve the journey of living with a rare disease for patients and families," Rath said.
'We need to take lessons from COVID-19'
Attendance at this year's virtual conference was up 81% compared to the 850 people who attended ECRD2018 in Vienna. It followed six broad themes, ranging from the future of diagnosis to the digital health revolution.
The online conference program ran 54 pages, with specific breakout sessions covering topics from newborn screening for genetic diseases to how best to bring real life into therapeutic development.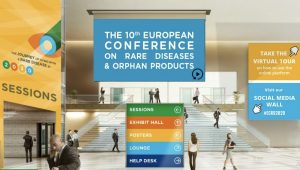 Several top EU officials addressed participants via Zoom, including Stella Kyriakides, the European commissioner for health and food safety. She said ECRD2020 builds on the work of the ongoing Rare 2030 Foresight Study, which will conclude in 2021 with a comprehensive set of key recommendations to EU leaders on how to improve rare disease policy.
"In the coming years, we will be guided by the Rare 2030 Foresight Study," Kyriakides said. "We need now to take lessons from COVID-19. We know that patients will be the driving force of our rare disease policy."
Europe currently accounts for more than one-third of the 4.7 million confirmed COVID-19 infections worldwide, with cases stretching from Madrid to Moscow. Infection rates, however, varies widely among EU member states.
Another major theme of ECRD2020 was how to ensure non-discrimination on the basis of health and disability. Officials addressing that theme included David Lega, a Swedish member of the European Parliament; Jana Popova of the Bulgarian Association for Neuromuscular Diseases; and Helena Dalli, European commissioner for equality.
"All people should be able to participate fully and equally in society and in the economy," Dalli said. "It is not only their right. Their participation represents a huge contribution to the whole society."
The ECRD2020 conference was co-chaired by Maria Montefusco, president of Rare Diseases Sweden; Milan Macek, a professor of medical and molecular genetics at Motol University Hospital in Prague; and Violeta Stoyanova-Beninska, chair of the Committee of Orphan Medical Products at the Amsterdam-based European Medicines Agency.