Pregnancy Could Worsen Cushing's Due to Adrenal Tumors, Study Says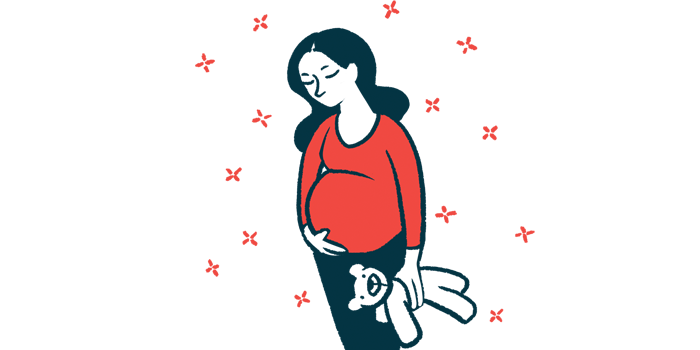 In pregnant women, changes in DNA methylation — a chemical modification used to tone down gene expression or activity — may worsen Cushing's syndrome caused by adrenal tumors, a study reported.
Findings indicate these chemical changes cause tumors to grow faster and become larger in pregnant patients compared with patients who are not pregnant.
The study "Alterations of DNA methylation were associated with the rapid growth of cortisol-producing adrenocortical adenoma during pregnancy" was published in the journal Clinical Epigenetics.
Cushing's syndrome is rarely seen during pregnancy, with about 220 known cases worldwide. But when it is, it is usually associated with complications for both the mother and her unborn child, with fetal mortality being as high as 25–40%.
Most of these Cushing's cases are caused by the presence of cortisol-producing adrenocortical adenomas (CPAs). These tumors are usually benign and are found in the adrenal glands, which sit on top of the kidneys and are responsible for producing cortisol — the stress hormone that is found at excessively high levels in people with Cushing's. (Cushing's disease, in contrast, is due to tumors in the pituitary gland of the brain.)
Recent research has linked the excess of hormones caused by adrenal gland masses to DNA methylation.
Researchers in China wondered if DNA methylation might also be involved in the development of CPA during pregnancy due to the hormonal changes taking place within a mother-to-be.
They analyzed clinical data and looked at DNA methylation patterns across the genome (all human genes) of four pregnant and 12 other women with CPA. All were enrolled at Qilu Hospital of Shandong University from January 2019 to June 2020.
There were no significant differences in age, body mass index (a measure of body fat), blood pressure, potassium, and tumor size between these pregnant and not pregnant patient groups. However, the pregnant women had higher blood cortisol levels, estradiol, progesterone, and human chorionic gonadotropin (HCG; a hormone produced by the placenta).
Additionally, pregnant patients had a shorter disease duration with a faster tumor growth rate compared with the other patients.
Tissue analysis from both groups found enlarged tumor cells that contained high amounts of fatty molecules. However, in pregnant patients, a higher proportion of proliferating cells — those that were actively dividing — was seen relative to patients who weren't pregnant (8% vs. 5.5%).
DNA methylation was analyzed in both groups and compared by grouping differential methylation positions (DMPs) — regions of the genome that may be methylated differently across samples — into different clusters.
Results across 5,000 DMPs showed a higher number of hypermethylated DMPs (5,043 vs. 2,229) and a lower number of hypomethylated DMPs (2,477 vs. 7,824) in pregnant than in not pregnant patients. Of note, hypermethylated and hypomethylated DMPs refer to sites where DNA methylation is occurring more or less than is normal, respectively.
Across the genome, pregnant patients also had more hypermethylated DMPs (67.94% vs. 22.16%) and less hypomethylated DMPs (32.93% versus 77.84%) than the other women.
When researchers assessed and compared the methylation status of the DNA promoter region — a region in a gene that controls its own activity — they found lower methylation in that region among patients who were pregnant than those who were not (33.25% vs. 66.48%).
Further investigation revealed 488 genes in the pregnant group that were hypomethylated in promoter regions. Many of these genes were involved in cell proliferation, adhesion, and death.
After combining multiple analyses for functional gene enrichment and cell signaling pathway mapping, four specific genes — TBX3, AKT3, SOX2, and SGK1 — involved in cell proliferation were selected. All were potential oncogenes, meaning that under certain circumstances they can promote the transformation of healthy cells into tumor cells.
These four genes were all hypomethylated in their DNA promoter regions in pregnant patients as compared with the other patients, and this hypomethylation was linked to higher gene expression and increased protein production.
"In the present study, our results showed that CPA grow rapidly during pregnancy. Through analyzing the genome-wide DNA methylation profiling of CPA in non-pregnant and pregnant groups, our study indicated that alterations of DNA methylation were associated with the [development] and exacerbation of CPA during pregnancy," the researchers wrote.
They also noted that "further studies are needed to investigate the specific function of DNA methylation in the development of CPA during pregnancy."