Rare Disease Groups, Patients Differ on 'Right to Try' Bill Before US Congress
David Curtis Glebe, a retired 64-year-old public prosecutor now living in Millsboro, Delaware, knows he's lucky to be alive.
In mid-2013, while in Arizona, Glebe was diagnosed with pancreatic neuroendocrine cancer (PNET) — the same disease that killed Apple's founder and CEO Steve Jobs.
After three years of progress with oral chemotherapy, Glebe's cancer came back. His physicians, finding no other option, strongly advised Glebe to undergo peptide receptor radionuclide therapy (PRRT) — a procedure available in Europe for the past 15 years but off-limits to all but a handful of U.S. patients.
Glebe flew to Switzerland for his initial PRRT round at the University of Basel, which used yttrium-90, a powerful isotope geared to larger tumors like his. His second, third, and fourth treatments were done by Dr. Ebrahim Delpassand at Excel Diagnostics Nuclear Oncology Center in Houston, using another but recommended isotope.
Delpassand could offer the procedure thanks to a new Texas "Right to Try" law giving terminally ill patients access to medicines under study but not approved by the U.S. Food and Drug Administration (FDA).
Since finishing with PRRT in May 2017, Glebe said his tumors are once again shrinking and no new ones have appeared.
"These results mean that the PRRT treatments I have been receiving, primarily at Excel, are allowing me to continue to live," Glebe said in a statement provided by the Phoenix-based Goldwater Institute, a libertarian advocacy group. "Without these PRRT treatments, given the 'out of control' nature of my PNET cancer that was discovered in the summer of 2016, I would likely have already died of liver failure."
Glebe's comments come as Right to Try, also known as "compassionate use," gathers support among U.S. lawmakers. A federal Right to Try bill passed the Senate in August 2017, and a companion bill, H.R. 878 or the Right to Try Act of 2017, is now before the House Energy & Commerce Committee. (Editor's Update: The full House failed on a vote of 259 to 140 to approve the Right to Try Act on March 13, 2018, preventing it for now from becoming a national law.)
Trump Favors 'Right to Try' in Address
In his State of the Union address, President Donald Trump said patients with serious diseases should have access to experimental treatments that could save their lives. Right to Try was the only one of 7,267 bills proposed by lawmakers in 2017 that Trump mentioned by name in his Jan. 30 speech.
"People who are terminally ill should not have to go from country to country to seek a cure. I want to give them a chance right here at home," the president said. "It is time for the Congress to give these wonderful Americans the right to try."
Nadia Bodkin, who has Ehlers-Danlos Syndrome, alpha-1 antitrypsin deficiency and beta-thalassemia, also couldn't agree more.
"I'm glad that Trump included this topic in his speech," Bodkin said in a phone interview. "The rare disease community has been advocating and requesting this legislation for several years now. I remember going to the FDA a few years ago with a group of parents discussing this very topic, and why those of us with terminal conditions should have a right to try."
Bodkin, who runs the Wellness Institute for Rare Conditions in Plainsboro, New Jersey, urges skeptics to spend a day with a family touched by a rare terminal illness without an FDA-approved treatment.
"If at the end of that day, they don't understand the need to implement Right to Try," she said, "then I would question whether they have a heart and could ever truly understand the real-life experience of fighting for your own life, or your child's life."
Potential for 'False Hope,' NORD Says
As enthusiastic as Trump is about Right to Try, it's an even more personal issue for Vice President Mike Pence, who as governor of Indiana pushed for a state law opening experimental therapies to those desperately ill. Pence has long been friendly with the family of 8-year-old Jordan McLinn of Indianapolis, who has Duchenne muscular dystrophy.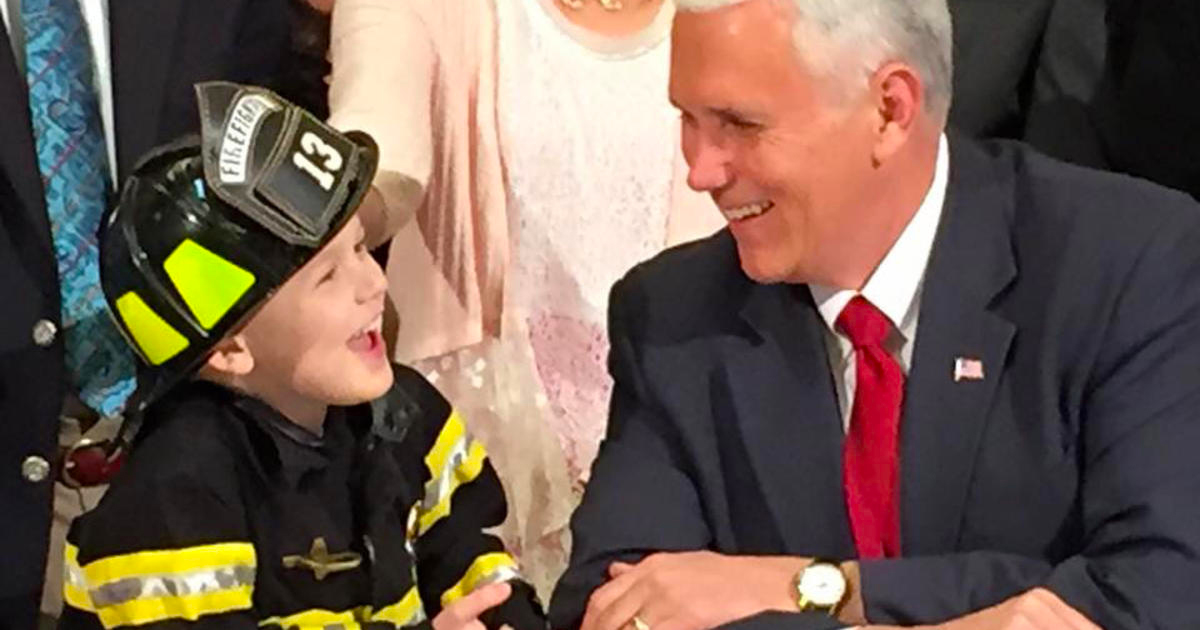 Indiana, like Texas, is among the 38 states that have passed Right to Try laws, giving patients access to therapies outside of clinical trials as long as such medications have undergone preliminary safety testing.
The House bill is co-sponsored by Reps. Andy Biggs (R-Arizona) and Brian Fitzpatrick (R-Pennsylvania). In a Feb. 5 letter to fellow lawmakers, Fitzpatrick said the bill's fundamental purpose is to allow "terminally ill patients who have exhausted all other options to try medications that have passed basic FDA safety protocols but not complete the full, multi-year approval process."
He added: "This bill safeguards any pharmaceutical company that may wish to participate in Right to Try, but it in no way requires participation to begin with."
Yet the National Organization for Rare Disorders (NORD), in a Feb. 6 letter to lawmakers, said the bill "may possibly harm patients by exposing them to bad actors looking to profit off of false hope."
NORD's letter is signed by 37 patient advocacy groups, including the Cystic Fibrosis Foundation, the Friedreich's Ataxia Research Alliance, the Leukemia & Lymphoma Society, the Pulmonary Fibrosis Foundation and the United Mitochondrial Disease Foundation.
FDA and 'Compassionate Use' Requests
NORD, an umbrella group that represents 270 patient organizations, is adamant in its opposition to the legislation, said Paul Melmeyer, the group's director of federal policy.
"We do not believe it would be successful in increasing access to promising investigational therapies, and could be harmful to our patients by removing important FDA protections and safeguards," he said in a phone interview.
If signed into law, "the FDA would no longer be able to ensure that patients are not being taken advantage of, that clinical trials would not be harmed, or that patients are getting the correct dosage and number of doses in any given time period," he said. "All of these protections would be removed."
Countering arguments that the FDA's expanded access program is slow and ineffective, a fact sheet issued by the NYU School of Medicine says the agency approves 99 percent of "compassionate use" requests. On average, it turns around emergency requests in one day or less, the sheet states, and non-emergency requests within four days. FDA forms can also be completed in about an hour.
Starlee Coleman, the Goldwater Institute's senior policy adviser, said similar bills have been proposed in the 12 states that don't yet have them. She disagreed such legislation will erode the FDA's authority.
"Only treatments that are currently in a Phase 2 or 3 trial are eligible to be requested under a Right to Try law," Coleman said in a phone interview. "If at any time the FDA puts a hold on a trial — or if a manufacturer decided not to pursue it further — the drug will no longer be available to patients under Right to Try. So that is definitely not removing the FDA from the process."
A Risk Worth Taking?
Terry Jo Bichell is director and scientific officer at the Angelman Biomarkers/Outcome Measures Alliance. She also has a PhD in neuroscience from Nashville's Vanderbilt University, and is the Tennessee "state ambassador" for NORD's Rare Action Network.
"I do think there should be a discussion about Right to Try. Yet we have to be very sure that people understand the risks or benefits," said Bichell. "In the case of Angelman syndrome, it's very tricky because it's never the person making the decision for himself or herself. It's always the parents or guardians making decisions for a person who can't speak."
At one point, Bichell and her husband were close to allowing doctors to inject their son, Louie, with a cancer drug called topotecan that offered hope for kids with Angelman. In the end, they decided against it.
"Two years later, a paper came out showing that the drug activates a lot of other genes and may cause autism. Maybe it would have had terrible side effects," she said. "We don't know whether it would have been good or not."
Even so, that's a risk Frank Rivera would be fully prepared to take.
"I believe patients who are terminally ill should have the right to try a medicine that has passed Phase 1 of an FDA trial," said the 50-year-old New Yorker, who has sarcoidosis.
Rivera, president of the nonprofit Sarcoidosis of Long Island, said that while Right to Try isn't a cure-all, he and people like him have little to lose.
"Being a rare-disease patient and knowing my body is getting worse and that there are no more medicines for me, I would try anything for the chance to extend my life," Rivera said. "Even if it doesn't work for me, it may give them more information to help someone else down the line."