How I Dealt with Cushing's Disease Before, During, and After Diagnosis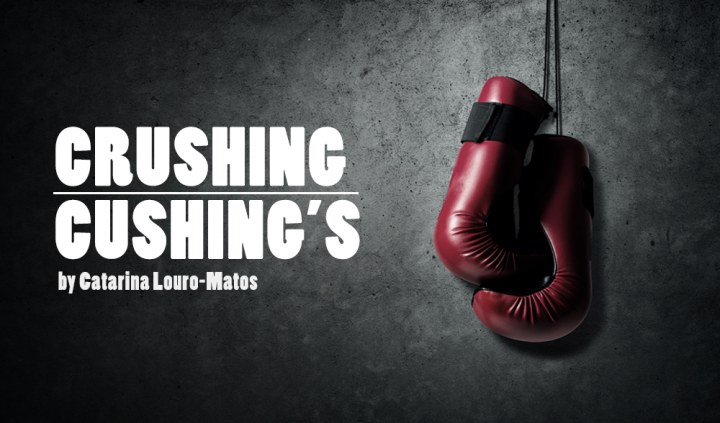 Hey, everyone!
This week, I want to get a little more personal. Many readers have asked how I dealt with Cushing's disease. So, I want to share that part of my story with you.

In some ways, dealing with Cushing's was easier once I received a diagnosis. Before I knew what Cushing's was, I thought I was going crazy. For nearly two years, I continued gaining weight while regularly going to the gym and eating well. There was no explanation or sound reason why it was happening. Once I met my endocrinologist, however, it all made sense.
In October 2014, I started becoming incredibly tired all the time. In January 2015, I noticed I had a little bulge growing on my lower abdomen. I didn't think much of it at the time, but after my diagnosis in August 2016, these occurrences in my life started to make sense. That tiny bulge kept growing and growing, and my exhaustion went to an entirely new level. I couldn't sleep at night, and I was always hot and sweaty.
Fast-forward from January 2015 to October 2015. My gut was getting larger and I had acne all over my chest, back, and face. I never had an issue with acne, so I thought it was strange. I also started growing a lot of hair on the sides of my face, belly, and lower back. People started suggesting I wax my face without me soliciting their opinion — as if my facial hair personally bothered them. Of course, this made me feel bad. A manager at a former job even told me to get the medication Accutane (isotretinoin) for the acne on my chest. That comment continued to bother me until I received my diagnosis.
By June 2016, I had full-blown moon-face, and my gut was somehow still growing. I didn't fit into any of my clothes. My memory was shot. I was aching all over. And I was lucky to get three hours of sleep each night. At this point, I was feeling lost, hopeless, and scared.
Everything that was happening to me didn't stop, no matter how many food-sensitivity diets I followed, how much exercise I got, or how much I wished for it all to go away. I felt as if I was losing my mind. People around me couldn't believe it. Some doubted I was following my diet or exercising. This made me feel ashamed and I hated showing my face and body in public. I would go to work and then go home. I never went anywhere else.
All this changed when I met my endocrinologist, who mentioned Cushing's disease. I promptly searched the term immediately after leaving his office. I knew that's what I had. Before he explained it, and before he discussed the difference between polycystic ovary syndrome (PCOS) and Cushing's disease (PCOS is what my naturopath thought I had), every fiber of my being told me that I had Cushing's.
Of course, I was scared. But receiving an official diagnosis on Aug. 15, 2016 provided me relief. A huge weight was lifted off my shoulders. I knew that I had Cushing's, and I knew it was a pituitary tumor that had caused it. My attitude completely changed, and I became a more positive person after diagnosis.
Positivity and being honest with those around me about my situation is how I handled Cushing's. Before diagnosis, I was ashamed of myself, so I was negative and constantly down. Most people are surprised that I didn't continue to be negative, because when they hear my story, they assume they would've been negative in that situation.
Positivity with myself was so incredibly important and a huge reason I think I've been doing well, according to my doctors. I was glad to have a diagnosis, amazing doctors, and a chance to live life again after surgery and a lengthy recovery. The road to surgery and recovery was a long one, and it wasn't easy. But I still kept my spirits up.
And that, my friends, is how I dealt with it. It wasn't easy. I wasn't always positive. But you'll eventually find your way if you haven't yet. It's OK to not be OK.
Until next week.
XOXO, Catarina
***
Note: Cushing's Disease News is strictly a news and information website about the disease. It does not provide medical advice, diagnosis, or treatment. This content is not intended to be a substitute for professional medical advice, diagnosis, or treatment. Always seek the advice of your physician or other qualified health provider with any questions you may have regarding a medical condition. Never disregard professional medical advice or delay in seeking it because of something you have read on this website. The opinions expressed in this column are not those of Cushing's Disease News or its parent company, BioNews Services, and are intended to spark discussion about issues pertaining to Cushing's disease.