Case Report: Adrenal Gland Cancer Caused Cushing's
Study cites difficulties in caring for people with aggressive adrenal tumors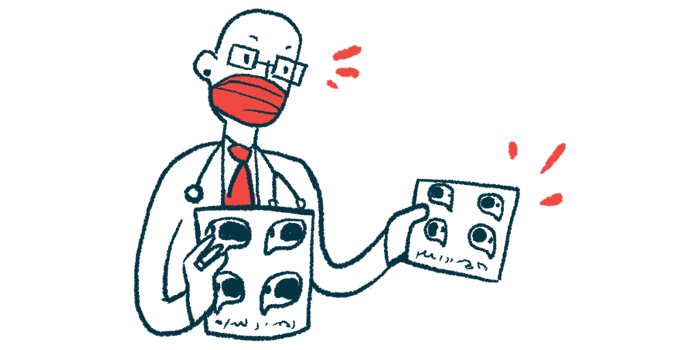 The case of a woman with adrenal gland cancer that caused Cushing's syndrome in its advanced stages was described in a recent report.
Authors noted this study highlights the difficulties in care for people with aggressive adrenal tumors, which often don't cause noticeable symptoms until the disease is at a late stage and when surgical removal is less likely to be successful.
The report, "An Aggressive Case of Adrenocortical Carcinoma Complicated by Paraneoplastic Cushing's Syndrome," was published in the journal Cureus.
Cushing's syndrome comprises a group of conditions characterized by elevated levels of the stress hormone cortisol, which is produced by the adrenal glands located just above the kidneys. Cushing's disease is a specific form of the syndrome where cortisol production is driven by a tumor in the brain's pituitary gland that releases excessive amounts of adrenocorticotropic hormone (ACTH) — another hormone that signals the adrenal glands to produce cortisol.
In this report, scientists described the case of a 75-year-old woman who was incidentally found to have adrenocortical carcinoma (ACC), a rare form of adrenal gland cancer.
The woman, whose medical history included hypertension (high blood pressure), type 2 diabetes, and anxiety, had been hospitalized for chest pain. Imaging tests had unexpectedly revealed a large mass in her right adrenal gland. She didn't report any common symptoms of adrenal gland dysfunction, such as changes in body weight or excessive fatigue, nor did she show any signs suggestive of Cushing's on her initial evaluation. However, blood tests showed her cortisol levels were elevated.
Further tests ruled out a pituitary tumor (i.e., Cushing's disease) as a potential cause for her elevated cortisol levels. This implied that the high hormone levels were being driven by the adrenal tumor itself.
Adrenalectomy
She then underwent an adrenalectomy — a surgery to remove the adrenal gland. There were no complications during surgery, though margins were positive — in other words, analyses indicated that not all cancerous cells were removed during surgery. Analyses of the removed tissue confirmed the diagnosis of aggressive ACC.
The patient was given radiation and chemotherapy treatments targeting her residual cancer. These treatments were generally well-tolerated, but after a year, a CT scan of her chest revealed new tumorous growths in her lungs.
At that point, she also started to experience typical symptoms of Cushing's syndrome, such as swelling, worsening hypertension, and low potassium levels (hypokalemia). Lab tests showed she had substantially elevated cortisol levels in the blood and urine.
The patient was started on a new cancer regimen, and also was given ketoconazole — an anti-fungal medication that can lower cortisol levels and is sometimes used off-label to manage Cushing's.
Despite these treatments, the patient's condition continued to deteriorate in the following months. After discussions with her care team, she ultimately decided to stop treatment and move to hospice care.
Overall, this study highlights the difficulties in treating ACC, according to researchers.
"Although patients may present with classical symptoms of [Cushing's], many patients do not present with symptoms until the disease has advanced," they wrote. "The management for patients with ACC continues to remain a challenge due to the lack of evidence for optimal therapeutic management."