NORD Honors Industry, Patient Advocates at Rare Impact Awards Gala
A violinist with vasculitis, two Texas politicians and a pharmaceutical company whose marijuana-derived therapy helps kids with Dravet syndrome were among winners of the 2019 Rare Impact Awards.
Officials of the National Organization for Rare Disorders (NORD) presented the awards during a June 22 dinner attended by 550 guests at the NASA Space Center in Houston. Retired astronaut Kenneth Cameron inaugurated the event, which was emceed by celebrated gymnast Mary Lou Retton and held in conjunction with the NORD Patient & Family Forum.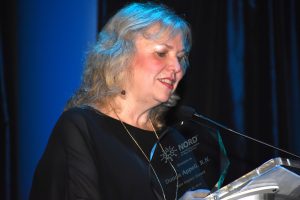 "Some things may seem impossible, like winning a gold medal or exploring outer space," said Retton, who won five gold medals at the 1984 Summer Olympics. "But tonight, we honor the hard work of everyone in this room, people who beat the odds to live their best lives every single day. If there was a gold medal for selfless service, it would certainly go to them."
In all, 17 individuals, nonprofit groups and pharmaceutical companies ranging from Agios to Ultragenyx took home sleek glass trophies. The event took place against a backdrop of space-themed artifacts such as Apollo 11 art and lunar rocks that celebrate the upcoming 50th anniversary of NASA's first manned mission to the moon.
U.S. Rep. Michael McCaul, who represents the 10th Congressional District, and State Rep. Sarah Davis, representing Texas House District 134, were honored for their efforts to improve the lives of patients with rare diseases.
Shortly after his election, McCaul, a Republican, founded the Congressional Childhood Cancer Caucus, and was key to passage of the 2018 Childhood Cancer Survivorship, Treatment, Access and Research (STAR) Act. Davis, now serving her fifth term, spearheaded legislation to improve oversight of the Texas Medicaid program and remove prior authorization requirements from early child intervention services.
"As a current Houstonian but a native West Virginian, I offer a special 'thank you' to Mary Lou Retton [who was born and raised in Fairmont, West Virginia]," said Davis, also a Republican. "You are all on the front lines every day fighting for your loved ones, and it's your personal experiences that inspire me as a Texas legislator to want to fight for your community. I look forward to a strong and impactful relationship with NORD."
FDA rare-disease breakthroughs
GW Pharmaceuticals made history in June 2018 when the U.S. Food and Drug Administration (FDA) approved the British company's cannabinoid therapy, Epidiolex, to treat two rare and severe forms of epilepsy.
"Epidiolex will make an incredible difference in the lives of people struggling with lifelong seizures," said GW's U.S. chief commercial officer, Darren Cline. "When the FDA approved Epidiolex one year ago this month, it was a culmination of our company's efforts to bring forward a new option for patients with Lennox-Gastaut syndrome and Dravet syndrome."
Cline added: "Fulfilling this mission required steadfast determination in cannabinoid research and breaking through the barriers that stood in the way of progress. Approval of the first cannabis-derived medication opened the door to treatments for patients with other rare diseases."
Jayne Gershkowitz, chief patient advocate at Amicus Therapeutics, accepted her company's award for developing Galafold (migalastat), the first FDA-approved pill for Fabry disease. Galafold, which retails for $315,000 a year, provides an alternative to lengthy infusions and is now approved for reimbursement in 24 countries.
"On behalf of everybody at Team Amicus, I share our deep appreciation for this Rare Impact Award," she said. "Throughout the 16 years it took to bring Galafold forward in the largest trials ever conducted in Fabry, we doubled down on persistence. But it was the urging of those individuals and families directly affected by Fabry — and the relentless collaboration of the many nurses and counselors at 50 study sites around the world — that kept us going."
From HLH to HPS
In addition to Amicus and GW, other companies winning Rare Impact Awards for therapies approved by the FDA during 2018 were:
Other winners included clinical and molecular biologist Wendy Chung, MD; Debra Regier, MD, director of genetic and genomic education at Children's National Medical Center; Madison Shaw, whose charity, Maddie's Herd, helps people affected by primary immune deficiency disorders; Deborah Skolaski, an advocate with NORD's Texas Rare Action Network; and the Platelet Disorder Support Association, which won the 2019 Abbey S. Meyers Leadership Award for its work on behalf of people with immune thrombocytopenia (ITP).
Allison Lint, a Kansas City violinist with Missouri's St. Joseph Symphony Orchestra, provided classical music for the gala. Lint is the founder of the nonprofit group Violin for Vasculitis. Lint's mission is to travel to all 50 states to raise awareness about her rare autoimmune disease.
Also honored was registered nurse Donna Appell, whose 1-year-old daughter, Ashley, was diagnosed with Hermansky-Pudlak syndrome (HPS), a rare and potentially fatal bleeding disorder associated with albinism. In 1992, she established the New York-based HPS Network, which now has more than 1,300 members.
"NORD has been a source of guidance for over two decades. I feel especially close to those organizations with ridiculous names," Appell said to much laughter. "In 1992, we engaged our patients in clinical research by gathering two 24-hour urine buckets. It had to be held in January because they had to be refrigerated outside. That was patient engagement!"
Appell has also launched Dare to be Rare, a clothing line that helps to raise awareness of HPS and other rare diseases. Her organization also recently helped establish the first clinic to treat HPS in Puerto Rico, where the disorder is particularly prevalent.
"NORD understands our sadness that we still don't have a treatment for HPS," said Appell, whose mission started with Ashley, who's now 31, but continues with the thousands of families she's connected with over the years. "I will never stop trying to cure this disease for her."