Double pituitary tumors detected in up to 13% of Cushing's patients
Undiagnosed adenomas may be cause of unsuccessful surgeries, researchers said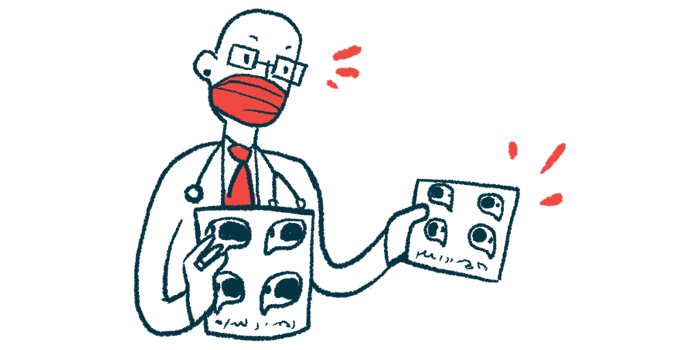 Double pituitary adenomas — noncancerous tumors that cause Cushing's disease — were detected in up to 13% of patients having tumor removal surgery at a hospital in Ukraine, a study reports.
While MRI scans detected some of the additional tumors, others were discovered by a comprehensive inspection of the sella turcica, the small depression inside the skull where the pituitary gland is located.
"We believe this article will raise awareness of and generate discussions around unsuccessful [pituitary] adenoma surgeries and the need to explore whether two separate tumors exist," the researchers wrote in "Double Pituitary Adenomas in Patients With Cushing's Disease," which was published in Cureus.
Pituitary adenomas are the primary cause of Cushing's disease. They trigger the excess production of adrenocorticotropic hormone (ACTH), a hormone that stimulates the adrenal glands atop the kidneys to produce and release too much cortisol. Over time, elevated cortisol leads to the onset of Cushing's symptoms.
Surgically removing pituitary adenomas via transsphenoidal adenomectomy is usually the first choice for treatment. The procedure can successfully lower cortisol production and ease symptoms in many patients.
Double and multiple pituitary adenomas have been reported in up to 3.3% of patients, however.
"Undiagnosed and unremoved second [pituitary adenomas] may be the cause of unsuccessful surgical treatment of Cushing's disease," the researchers wrote.
Better targeting of double pituitary tumors
To describe their experience with detecting and treating Cushing's with double pituitary adenomas, the researchers examined the medical records of 81 patients who'd had surgery for the first time at their hospital. Stained tissue samples confirmed the presence of double pituitary adenomas.
Among the participants, 51 had surgery before 2017, when MRI scans were routinely used to plan the procedure. From 2017 onwards, an inspection of the pituitary gland during surgery was incorporated, regardless of MRI findings. This was done in the remaining 30 patients.
Before 2017, medical records showed three out of 51 (5.9%) patients had double adenomas. In 2017 and beyond, four out of 30 (13.3%) had double adenomas, two of which were predicted by MRI. The additional tumors were seen by a broad inspection of the sella turcica, not by imaging tests.
Remission, defined as the restoration of healthy cortisol levels two weeks after surgery, was achieved in 42 of the 51 (82%) patients who had surgery before 2017. By comparison, from 2017 onwards, 27 out of 30 (90%) achieved remission. All tumors in both groups were classified as microadenomas, or those measuring less than 1 centimeter (0.4 inches) in diameter.
Three of the nine people who didn't reach remission before 2017 had a gross total resection, meaning the tumor was removed entirely without evidence of residual tumor for up to a year. No postoperative complications were reported.
In all cases, tissue examination found similar features between individual tumors isolated from each double-tumor patient. About 1-3% of cells tested positive for Ki-67, a proliferation marker suggestive of aggressive tumor behavior, "reflecting a low probability for recurrence."
"Although the improvement in our results in recent years cannot be clearly attributed to a targeted search for the second microadenoma, we still consider it appropriate to perform a broad inspection of the sella turcica after the excision [removal] of the pituitary microadenoma regardless of the preoperative MRI data," the researchers wrote.