Metyrapone Safely Treats Cushing's Disease in Pregnant Woman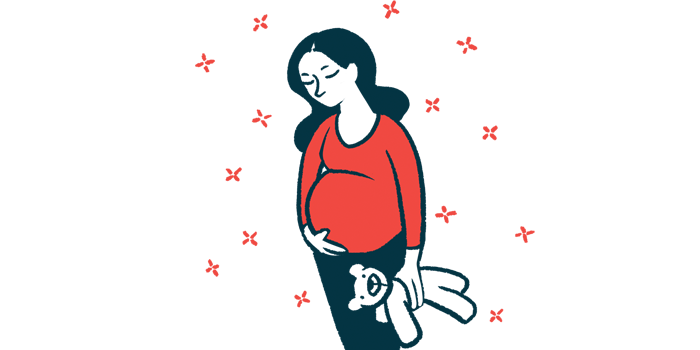 Cushing's disease was successfully treated using metyrapone in a pregnant women with no harm to the unborn baby, a case-report found.
The report, "Cushing Disease Treated Successfully with Metyrapone During Pregnancy," was published in the journal AACE Clinical Case Reports.
Cushing's syndrome is characterized by excessive levels of the hormone cortisol in the body. In most cases, the disorder is caused by the abnormally high levels of another hormone called adrenocorticotropic hormone (ACTH) driven by a tumor in the brain's pituitary gland — and is known as Cushing's disease.
Cushing's disease occurs rarely during pregnancy, but when it does, the pregnancy is considered high-risk with potential complications for both the mother and the developing fetus. Due to its rarity, little guidance is available for the medical staff.
"These cases are particularly challenging given the lack of FDA-approved therapies and the lack of consensus on directing titration [dose adjustment] of medications and the duration of therapy," the scientists wrote.
The first line of treatment for Cushing's disease is usually the removal of the pituitary tumor, a standard procedure called transsphenoidal pituitary surgery, with medication as a second approach.
Scientists here described the case of a pregnant woman with Cushing's disease who was successfully treated with metyrapone, a cortisol-lowering medication marketed under the brand name Metopirone.
The 34-year old woman had a medical history of high blood pressure and infertility for six years before an endocrinology check-up.
Her only complaints, besides difficulties conceiving, were nausea and easy bruising. Typical signs of Cushing's, including moon face, abdomen with violaceous striae, and dorsocervical fat pad, were absent.
Blood tests confirmed she had elevated levels of prolactin and ACTH, but low levels of luteinizing hormone (LH) and follicle-stimulating hormone (FSH) — two other hormones important for fertility.
Further testing showed high urinary free cortisol levels (290 micrograms per 24 hours; normal range: 6–42 mcg/24h). Additionally, her blood cortisol levels failed to drop after an overnight dexamethasone suppression test (ODST), usually given to confirm the presence of hypercortisolism (excessive cortisol levels). This test measures morning cortisol levels in the blood taking dexamethasone, a corticosteroid that normally blocks its production. In patients with Cushing's, cortisol levels usually remain high after the test.
An MRI scan of the pituitary gland was consistent with the presence of a pituitary tumor and a diagnosis of Cushing's disease.
The woman was referred to neurosurgery, and underwent transsphenoidal pituitary surgery a few months later.
Within three months, however, an MRI scan showed a mass near her right carotid artery. Further tissue analysis confirmed it was positive for growth hormone, ACTH, prolactin, FSH, LH and thyroid stimulating hormone, "proving the surgery to have been unsuccessful," the scientists wrote.
She discovered that she was pregnant shortly after the surgery. Signs of persistent disease were evident, with her urinary free cortisol levels still high (768 mcg/24h) at 12 weeks of gestation. She bruised easily and was taking medication to control her high blood pressure. By then, she had gained 10 pound.
Surgery at this point was deemed too risky, and doctors decided to treat her with metyrapone, starting at a dose of 250 mg twice a day. The dose was increased every three to four weeks, depending on her urinary free cortisol levels, up to 1,000 mg three times a day by the time of delivery. At this point, her urinary free cortisol levels had dropped to 120 mcg/24h.
Morning ACTH and blood cortisol levels were monitored for potential adrenal insufficiency — a condition that happens when the adrenal glands are unable to produce enough of certain hormones.
Her blood pressure was kept under control throughout the pregnancy with labetalol (sold as Trandate, among other names) plus nifedipine (brand names include Adalat), which was added in the second trimester.
She developed gestational diabetes at 24 weeks, which was kept under control by a dietary regimen.
Labor was induced at 37 weeks of gestation due to cervical insufficiency — meaning the uterine cervix has opened (dilated) earlier than it is usual. At this point, steroids were added to metyrapone.
She delivered a healthy boy vaginally without complications. The baby's cortisol levels at delivery and one week later were normal, with no evidence of adrenal insufficiency.
Following delivery, her metyrapone was reduced to 500 mg three times a day, and within two months of giving birth, the patient's urinary free cortisol levels were normal (42 mcg/24hr).
The woman decided to stop taking metyrapone four months later, and her urinary free cortisol levels increased to 272 mcg/24h.
One year after delivery, another pituitary adenoma was found on an MRI scan and she underwent a second transsphenoidal surgery. However, due to the COVID-19 pandemic, this surgery was delayed for six months.
On the second day after surgery, she had abnormally low cortisol levels (1.1 mcg/dL; normal range: 6.7–22.6 ug/dL) and was started on hydrocortisone, a form of cortisol replacement therapy.
At the time of the report's publication, "she remains on hydrocortisone replacement and went on to conceive again, one month after her second surgery," the scientists wrote.
Overall, "this case demonstrates the successful use of metyrapone alone to treat [Cushing's disease] throughout pregnancy resulting in the birth of a healthy baby without adrenal insufficiency," they concluded.