#ECRD2018 – EU Must Do More for Rare Disease Patients, Eurordis Leaders Say
The European Union isn't doing enough to protect the 30 million or so people with rare diseases who live in its 28 member countries, officials meeting last week in Vienna said.
More than 900 people from 58 nations attended the 9th European Conference on Rare Diseases & Orphan Drugs (ECRD), held May 10-12 in the Austrian capital.  The meeting was organized by Eurordis-Rare Diseases Europe, with support from the Paris-based Orphanet consortium and DIA, a global healthcare association headquartered in Basel, Switzerland.
The EU defines a disease as rare if it affects fewer than 1 in 2,000 people. That means 6 to 8 percent of the 512 million people living within its borders have one or more of the 7,000 or so known rare diseases.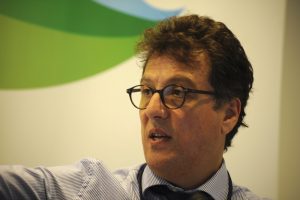 Lene Jensen, CEO of Rare Diseases Denmark, said EU member states now boast 24 national strategic plans for rare diseases, up from only four in 2008.
"Rare diseases are now at the forefront of healthcare policy. Thanks to the European Reference Networks, there are new scientific developments, new therapies and a new diagnostic landscape," said Jensen, speaking at Vienna's Messe Wien Exhibition & Congress Center. "But no country can face the challenge of rare diseases alone. In order to have a new and even stronger, more comprehensive policy framework, we need clear priorities and goals."
The expertise is already there, said Ana Rath, director of Orphanet.
"We have common, standardized ways to describe and exchange data. We have incentives to develop therapies, and so many people are committed to rare diseases," she said. "It seems we have no excuses to leave any rare disease patient behind. That is why we are here today, to identify what is left to be done, to see where the problems are, and to imagine solutions."
The EU is expected in 2019 to adopt the European Joint Programme Co-Fund for Rare Diseases, which aims to structure rare disease research and create a "bench to bedside" therapy pipeline.
But challenges remain for many patients in accessing a diagnosis and treatment, while social care throughout the EU can fragment from one country to the next.
"We need to accelerate the momentum we've built over the last 20 years and create a new impetus to face emerging challenges and ensure no one is left behind," said Yann Le Cam, who has served as CEO of Eurordis since 2001. "We need to continue looking for these solutions at a supranational level to help to improve equity of access to health, and achieve universal health coverage and the health-related United Nations Sustainable Development Goals."
Le Cam added: "Eurordis is calling for a strong drive from the EU institutions and in particular, a reaffirmed leadership from the European Commission in the area of rare diseases."
RDI aiming to be independent group
Meanwhile, Rare Diseases International (RDI), which began as a Eurordis project, now aims to become an independent organization by mid-2019. The RDI consortium already counts the U.S. National Organization for Rare Disorders (NORD) among its members, along with NORD's Toronto-based counterpart, the Canadian Organization for Rare Disorders (CORD).
Durhane Wong-Rieger, CORD's president and CEO, also chairs RDI. Speaking at a May 10 meeting attended by more than 200 Eurordis officials, patient advocacy representatives and others, she said RDI's general goal is to be the global voice of people with rare diseases.
"This will allow us to take on many more responsibilities and opportunities, but also to be a presence on the global stage," Wong-Rieger said. "It'll also allow Eurordis to continue to focus on rare diseases within the EU. And having a global entity, we will be able to relate to other global entities like the United Nations, the World Health Organization (WHO) and agencies like Unesco and Unicef. It is increasingly important that RDI has legal status within these organizations."
Helen Clark, the former prime minister of New Zealand — who until April 2017 headed the United Nations Development Program — once said "no country can claim to have achieved universal healthcare if it has not adequately and equitably met the needs of those with rare diseases."
Likewise, Tedros Adhamom Ghebreyesus, WHO's director, tweeted on Feb. 28 — Rare Disease Day — that his agency is "working for a world where no one is left behind. We welcome further discussion with the rare disease community on how we can strengthen cooperation to ensure people with rare diseases can access the health services they need."
With this in mind, RDI hopes to get the United Nations to pass a resolution recognizing the importance of helping the estimated 350 million people worldwide who have rare diseases.
RDI now has 53 member associations covering more than 100 countries. Le Cam said the group had its first meeting at United Nations headquarters in New York in November 2015, where it "planted the flag of rare diseases" at the 193-member world body.
"We are at a turning point in our relationship with the United Nations system. We're clearly at the bottom of the ladder," Le Cam said. "We cannot just say we want a United Nations resolution on rare diseases. It's going to take five years if we work extremely hard. Nothing will be given to us; that's obvious.
"What we need in order to get there is to create an environment and plant seeds in different parts of the system in order to create the framework to get this resolution."