'A Disease May Be Rare, Hope Should Never Be,' Says Boy with SMARD at Connecticut Rare Disease Day Event
When it comes to rare diseases, one that definitely makes the list is spinal muscular atrophy with respiratory distress — SMARD, for short.
Hunter Pageau, a 12-year-old boy from North Haven, Connecticut, is one of only 80 people in the world known to have SMARD, a motor neuron disease that often kills affected children before their first birthdays.
On Rare Disease Day, Feb. 28, the spunky seventh-grader melted the hearts of some 200 people gathered at the Connecticut Legislative Office Building in Hartford as he advocated on behalf of himself and other patients with rare, often incurable diseases.
"I have spent at least half my life trying to raise awareness and increase education for those who are often unheard, unknown or forgotten," said Hunter, speaking from his wheelchair and dressed in a yellow shirt and striped tie. "I'm genuinely dedicated to creating positive, lasting changes for those who brave the battle for rare diseases."
Last year, Hunter created a club called YES — which stands for Youth Empowerment Society. This, despite the fact he has had at least 30 surgeries, including a tracheostomy, and cannot breathe on his own.
"Each of you respects the true value of advocacy, which is why I believe we're all here," said the boy, sounding like an elder statesman and earning applause from his audience. "While a disease may be rare, hope should never be."
A place on rare disease research map
Hunter was among more than 20 speakers at a breakfast to honor Rare Disease Day 2018. He was joined by Len Fasano, the Republican president pro tempore of the Connecticut Senate, and by House Speaker Joe Aresimowicz, a Democrat.
The event was organized by the National Organization for Rare Disorders (NORD), which is based in Danbury, about an hour's drive south of Hartford.
"Here in Connecticut, there's a huge opportunity around Yale and other major medical centers," said NORD's president and CEO, Peter Saltonstall. "The state needs to put the appropriate incentives in place to draw clinicians here. The research and cutting-edge stuff comes out of academic labs — and the likelihood of success clearly increases the more of those you have."
Yet Emily Germain-Lee, MD, director of the Center for Rare Bone Disorders at Connecticut Children's Medical Center in Hartford, said it's hard to get funding from the National Institutes of Health (NIH) for any condition — and even harder for rare diseases.
"The companies pitch in and so do philanthropists, but companies pitch in when it's towards the end, and philanthropic foundations help, but it's often small amounts," she said. "What's really needed is state support for research in the early stages. It's also really important to have rare disease centers" that bring in "clinical trials and venture capitalists."
Connecticut seeks to lure clinical trials
Connecticut, population 3.6 million, consistently ranks as the wealthiest of 50 U.S. states in per-capita income. It's home to hundreds of hedge funds, Yale University, Fortune 500 companies like United Technologies, and the insurance giant Aetna.
It's also home to Milford resident Greta Stifel, a patient with a rare cancer called neuroendocrine tumor, also known as NETs.
"Rare Disease Day is significant for all patients and caregivers in the community to let their voices be heard and stories told, so that others can understand the difficulties and roadblocks we face medically, financially, physically and even politically," said Stifel, who along with Aresimowicz is pushing for state legislation requiring continuing medical education and screening for various rare cancers.
Stormy Chamberlain, PhD, an associate professor of genetics at the University of Connecticut in Farmington, works on stem cell research in both Angelman and Prader-Willi syndromes, two rare diseases.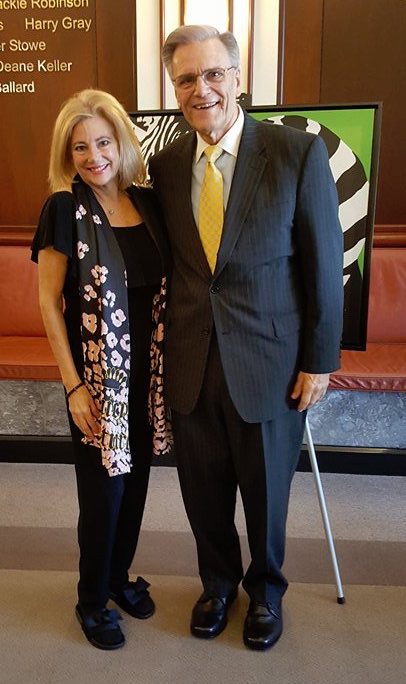 "I can't emphasize enough the economic impact of rare disease research," she said, noting the importance of funding from advocacy groups such as the Angelman Syndrome Foundation (ASF) and agencies like NIH. "We must continue to support these seed studies and make Connecticut a friendly place to do business for biotech and pharmaceutical companies. We're becoming a powerhouse for genomic medicine, and these therapeutics are likely to come with a hefty price tag."
Chamberlain added: "This is also an opportunity for insurance companies to develop novel products to serve the community, and Connecticut has a strong insurance industry."
'Help in connecting the dots'
Jim Kubicza, whose 8-year-old son, Cole, has Angelman syndrome, lives in the nearby town of Cheshire and sits on the ASF board of directors.
"I'm here representing the 38 known families of people diagnosed with Angelman in the state of Connecticut," he said. "Our foundation has raised over $500,000 in research grants for Dr. Chamberlain's lab. I'm also here as a father to a child with Angelman. Cole's life depends on seizure medications that cost $1,200 a month."
Kubicza added: "Our son also needs 24-hour supervision, which is difficult when only one parent is home. A home health aide gives us a little assistance, but we had to wait more than three and a half years to get it.
"Cole is currently attending public school in Cheshire and getting him what he needs for a fair education is a constant battle; we need lawyers just to fight for his basic needs. This is a huge expense for already-hurting families, so assistance from our state makes our life bearable."
John Hopper, president of the Fibrolamellar Cancer Foundation in Greenwich, said Connecticut must create more economic incentives to lure rare disease research to the state — especially considering that it costs $2.5 billion and takes 12 years, on average, to develop a new drug.
"There are 7,000 rare diseases, so the money is out there," Hopper told lawmakers in attendance. "We're not asking you for money, but for help in terms of connecting the dots."