Introducing 'Chronically Yours,' a new Cushing's disease column
A writer narrates their journey through diagnosis, surgery, and recurrence

I remember the day I realized something was wrong with me. Until that point, I'd been able to explain away my symptoms. Buffalo hump on my back? Bad posture. Periods stopped? I'd been stressed out. Acne? It happens! Then I gained 70 pounds in a month and a half. I couldn't explain that away.
I tried new forms of exercise, blaming myself for the weight gain, but a tiny voice in my head whispered, "Something is wrong." Next, my vision started to change. I was seeing floaters constantly, and people glowed when I looked at them. I even had constant static in my field of vision. I was told this was visual snow syndrome, but that there was likely an underlying cause.
After that, things developed quickly. I started to get striae up and down my body, migraines took over my life, and I had memory issues and muscle weakness. I was exhausted all the time, but terrible insomnia kept me from resting. I started to lose my hair and had bruises everywhere. I felt weak.
Eventually, I had to quit my job and move back in with my parents. I was embarrassed and terrified.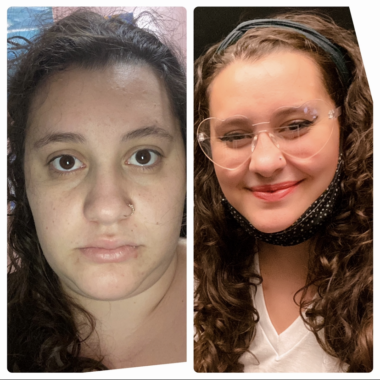 I went to every doctor I could find — a primary care physician, a neurologist, a gynecologist. I ended up seeing 13 doctors over the course of two years before I was eventually diagnosed with cyclic Cushing's disease in March 2020, just before COVID-19 hit.
I needed surgery, but my insurance deemed it elective, so once again I had to play the waiting game. After a few months, I was able to schedule it for June. But despite living in New York City, I'd be traveling to the MD Anderson Cancer Center in Houston, Texas. There weren't any local options, since the surgery was so specialized, and I needed a neurosurgeon who was willing to work long distance with my endocrinologist. Since COVID-19 was rampant, my family and I had to make the 24-hour drive to Texas without stopping.
That surgery was one of the scariest days of my life. Hospital staff did a wonderful job of taking care of me, but nobody could visit me due to the pandemic. There were so many cases of COVID-19 that I had to stay in the intensive care unit, completely alone, for three days to recover. I don't have many memories from that time. I mostly remember how kind the nurses were, and how horrific my headache was.
When my family and I started the four-day trip home, I thought this was the beginning of the end of my Cushing's journey. I truly thought I'd be able to put this all behind me, move on, and live a life where I could say, "Yeah, I had this tumor in 2020, but all is good now!"
I was wrong.
Round 2
In 2022, I started experiencing the same symptoms I'd dealt with in 2020, but this time, they were much worse. The migraines lasted four hours a day. The weight gain happened in under a month. My hair started falling out in chunks, and my vision was blurry and distorted all the time. The muscle pain and bone issues were so severe that I needed a wheelchair. It took me a little longer than I'd like to admit to face the facts: I had another tumor.
I was officially diagnosed with a Cushing's disease recurrence in October, after finding out my cortisol level was eight times what it should be. By the time my doctor confirmed it, it wasn't a surprise to me or any of my loved ones.
This time, it was more complicated. Doctors weren't sure that surgery was the best option for me. I met with multiple neurosurgeons who showed me how small my pituitary gland was and talked me through what they thought was the best choice for me.
That's where I'm at now. I'm treating my Cushing's with three different medications. It's starting to work, just a little bit. I've been able to start working again, and I've even managed to do some Pilates without screaming in pain.
This year, I'll be deciding if I want to undergo radiation, or be treated with medication for a few years and have surgery then. I really don't know what I'm going to do. I also still have to find out what is reversible and what isn't. Will I always need mobility aids? Will my vision ever return? Will I be able to have children if I want them?
There are a lot of unknowns with this disease, and especially with my particular path. I won't always be happy and positive, and I won't always be healthy, but I will always share my story and work to create a community. This journey doesn't have to be lonely. We can get through it together.
You can follow my journey more closely on TikTok or YouTube.
---
Note: Cushing's Disease News is strictly a news and information website about the disease. It does not provide medical advice, diagnosis, or treatment. This content is not intended to be a substitute for professional medical advice, diagnosis, or treatment. Always seek the advice of your physician or other qualified health provider with any questions you may have regarding a medical condition. Never disregard professional medical advice or delay in seeking it because of something you have read on this website. The opinions expressed in this column are not those of Cushing's Disease News or its parent company, BioNews, and are intended to spark discussion about issues pertaining to Cushing's.